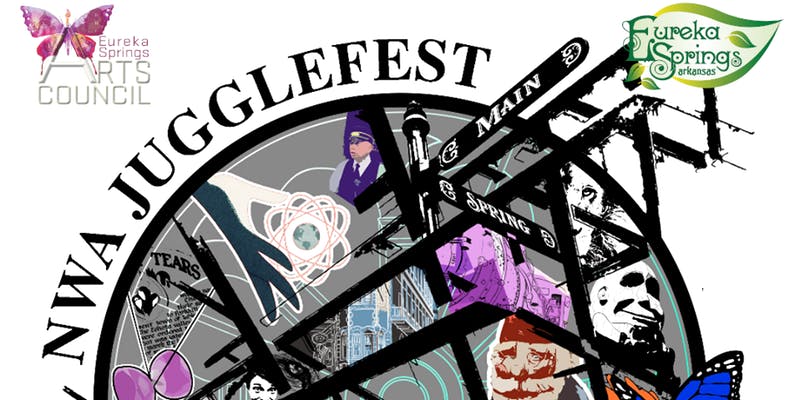 The Northwest Arkansas Juggling Festival brings local communities together with jugglers from all over the country for a fun-filled weekend of juggling-related madness. Enjoy creative play through games, workshops, social circus, demonstrations, and shows. All skill levels and prop types are welcome. The general public is invited to come watch the activities in the gym and to learn how to juggle for free. All of the festivities will take place in and around historic Eureka Springs, AR, (www.eurekasprings.org/) in conjunction with the Eureka Springs May Festival of the Arts. Don't worry, though; there will still be lots of late night juggling fun in the woods. The festival camping area and afterparty are located at Green Tree Lodge (560 W. Van Buren; Eureka Springs, AR). The park has a large in-ground heated pool, bathroom/showers, outdoor clubhouse, wood fired pizza oven, camp store and a guest laundry. It is only 1.5 miles from the main festival site and has a trolley stop right at the campground.
All of our learn how to juggle workshops are completely free to the general public. Come find us at the table marked Juggling Academy and we will have you throwing things in no time!
Our camping reservation is limited to 25 tent sites and 5 RV sites, so buy early to make sure you get one.The free events are made possible by a grant provided by the City of Eureka Springs and the Eureka Springs Arts CouncilA Huge THANK YOU! to Karma Cups, Brew's, Chelsea's Corner Cafe, Sparky's Roadhouse Cafe, All Seasons Inn, Nibbles Eatery, Granny's Place, and ESP Tours for helping to fund this event and make it entirely free to the residents of Eureka.